50 psychology studies reveal how people are using email, Facebook, Twitter, online dating and more.
Twitter is an unsocial network. 59% of people check email from the bathroom. Online daters do lie, but only a little.
These are just a few of the psychological insights revealed in more than 50 internet psychology studies. Read on for more on how people's behaviour has adapted (or not) to the demands of the online society.
Image credit: Darren Hester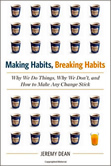 About the author
Dr Jeremy Dean is a psychologist and the author of PsyBlog and HealthiestBlog.com. His latest book is "Making Habits, Breaking Habits: How to Make Changes That Stick". You can follow PsyBlog by email, by RSS feed, on Twitter and Google+.
Published: 4 October 2010