British psychologist Dr. Jeremy Dean is the founder and author of the popular website 'PsyBlog'.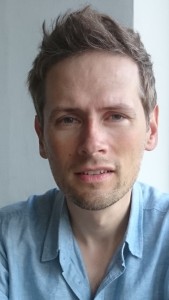 Jeremy's first degree was in law but after a career in the Internet industry he began studying psychology.
He has now racked up three higher degrees in psychology, his latest being a doctorate from University College London.
Along the way PsyBlog took its first fumbling steps in 2004, covering scientific research into how the mind works.
Much to his own surprise, a decade and more later it is still going strong and read by millions around the world.
Jeremy has written a number of ebooks:
He is also the author of Making Habits, Breaking Habits.
Find out how to follow PsyBlog right here.
Partners
Although PsyBlog is solely authored by me, there are some partners I'd like to mention:
1. WordPress and the Thesis Theme
This blog runs on a wonderful Open Source, free-to-use blogging platform called WordPress.
Should you be in the market for such a thing, I thoroughly recommend it.
I have customised the website by using the Thesis Theme, which as they say themselves, "Makes your website load faster, rank higher and looker better".
2. Flickr users
Some articles I publish are accompanied by one or more images from Flickr users who have chosen to share their work with the world.
I also draw images from other free-to-use sources.
If I have used your image, then thank you very much. It's much appreciated by both myself and my readers.
3. Readers and supporters
Over the years I've received some great compliments from readers (some even deserved!).
Without you there's no point to this, so it's always fantastic to know the work is appreciated.
Here's just a small selection of the nice things people have had to say:
"I just wanted to thank you for compiling such a terrific set of posts on the science of psychology. I teach an introduction to experimental psychology course, and I have been contemplating teaching the course using online resources (essays, blog posts, etc) in place of a textbook. Your site is a wonderful resource for students, and is one of the few collections of essays and posts on scientific psychology. Thank you for making this terrific resource available." ~ Professor Daniel J. Simons

"Hello!
I recently stumbled upon your blog, and must tell you how interesting you, and your articles are…I find your information more fascinating with the backup of research. Please keep it coming! lol…" ~stacy

"hi Jeremy, your site has been invaluable to me and i wish i'd stumbled on it months ago." ~old dog,new tricks

"I am a master student of Psychology in Utrecht, The Netherlands. I really like your blog, it actually made me start my own :)) And I just did!" ~Dragos Petrescu

"I have really enjoyed your blog since discovering it a couple of months ago. Your posts are always interesting, and I find myself following your links for more and back-linking my mini-blog with increasing frequency. Thanks for tickling the little grey cells." ~Lorre Zuppan

"I'm a Psych prof and am pleased to see someone out there trying to tell the world about the scientific side of psychology. There is too little appreciation for experimentation and too much reliance on correlations." ~Mike

"I'm a lawyer from India and was generally looking for something on "guilt" when I chanced upon your blog. It seems very interesting and informative and I'm sure I'll be a regular from now on." ~cherry

"I'm a graduate student in Neuroscience at Iowa looking at motivation and emotion in depression. Very interesting blog." ~scaramouche

"Hi! I'm a student from malaysia and i stumbled upon your blog by accident. however, i am pleasantly surprised to find a very informative and entertaining blog.. great job, and keep it up!:)" ~nurul

"I ran across (and linked to) your psychobabble article when writing a similar blog called "Therapists and their Pet Phrases" today. Very funny and helpful stuff you have here, thanks for being a (fellow) voice of reason in a confusing field." ~Ryan Howes, Ph.D.

"I just developed an interest in Psychology and I am really glad to chance upon your website. Psyblog has given me much insight into psychology and stirred my interest in this subject even more! Thank you so much! Keep up the Awesome work!" ~Richard

"Your psychological choice of topics and clear and crisp writing style challenges us to connect, dissect, and simply enjoy the academic and folk themes of your blog…" ~Kenny E. Williams
Thanks to everyone for your comments and I hope you continue to enjoy learning about the science of psychology!
— Jeremy Dean