Looking for inspiration? Start with PsyBlog's articles on the science of creativity.
Here's a deceptively simple question: if we all have the potential to be creative, why is it so hard?
Part of the problem is that so little attention is paid to the psychological research on creativity. If we can harness what scientists already know about creativity, we can propel ourselves to new heights of achievement.
Creativity isn't just for artists, we all need it—at home, in our relationships and, for many of us, at work. By one measure around 30% of workers in the US are members of the creative classes. Along with designers, writers and artists this includes professions like lawyers, business people and healthcare professionals; in fact it includes anyone who has to use an existing body of knowledge to reach creative solutions.
For many of us, then, our incomes rely on our creativity. Boost our creativity and the rewards will come.
Collected below are recent PsyBlog articles which explore how to be creative:
Image credit: Faith Goble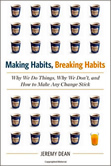 Making Habits, Breaking Habits
In his new book, Jeremy Dean--psychologist and author of PsyBlog--looks at how habits work, why they are so hard to change, and how to break bad old cycles and develop new healthy, creative, happy habits.
→ "Making Habits, Breaking Habits", is available now on Amazon.
Reviews
The Bookseller, "Editor's Pick," 10/12/12
"Sensible and very readable…By far the most useful of this month's New You offerings."
Kirkus Reviews, 1/1/13
"Making changes does take longer than we may expect—no 30-day, 30-pounds-lighter quick fix—but by following the guidelines laid out by Dean, readers have a decent chance at establishing fulfilling, new patterns."
Publishers Weekly, 12/10/12
"An accessible and informative guide for readers to take control of their lives."
→ You can dip into the first chapter, or check it out on Amazon.com.
Join PsyBlog's 69,466 readers now:
Share/save this article:
Published: 9 August 2011