Do anger and envy have upsides? Does keeping busy make us happy? Why is regret so powerful? These and much more…
Emotions aren't just things that happen to us, they are vital components of how we reason, motivate ourselves, think about the past and future and how we communicate with others.
Our emotional selves are sometimes remarkably resilient, sometimes out of control and often difficult to understand. Good feelings inevitably fade, while negative ones can stay with us forever.
To help explore your emotional side, here are my top articles from PsyBlog on the psychology of emotions:
Image credit: Alvaro Tapia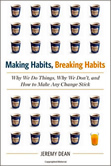 About the author
Dr Jeremy Dean is a psychologist and the author of PsyBlog and HealthiestBlog.com. His latest book is "Making Habits, Breaking Habits: How to Make Changes That Stick". You can follow PsyBlog by email, by RSS feed, on Twitter and Google+.
Published: 30 May 2013