"Most powerful is he who has himself in his own power." ~Seneca
The Roman philosopher Seneca knew the benefits of self-control, as do modern psychologists:
"...self-control is strongly associated with what we label success: higher self-esteem, better interpersonal skills, better emotional responses and, perhaps surprisingly, few drawbacks at even very high levels of self-control (Tangney et al., 2004). (From: How to Improve Your Self Control)
I've discussed many strategies for improving self-control in: Top 10 Self-Control Strategies.
But in a new study they've found that the merest suggestion of money is enough to help people recover from the ego-depletion effect (i.e. when your self-control 'muscle' is tired from too much exertion):
"Across two experiments using varied operationalizations of self-control, participants completed an initial task that depleted self-control resources or not, were then reminded of money or neutral concepts, and finally, completed a second task requiring self-control. In both experiments, among depleted participants, those reminded of money performed better on the second self-control task than those reminded of neutral concepts." (Boucher & Kofos, 2012)
Image credit: Eric Gjerde
Self-Control
→ This post is part of a series on self-control:
The Merest Thought of Money Replenishes Self-Control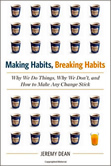 Making Habits, Breaking Habits
In his new book, Jeremy Dean--psychologist and author of PsyBlog--looks at how habits work, why they are so hard to change, and how to break bad old cycles and develop new healthy, creative, happy habits.
→ "Making Habits, Breaking Habits", is available now on Amazon.
Reviews
The Bookseller, "Editor's Pick," 10/12/12
"Sensible and very readable…By far the most useful of this month's New You offerings."
Kirkus Reviews, 1/1/13
"Making changes does take longer than we may expect—no 30-day, 30-pounds-lighter quick fix—but by following the guidelines laid out by Dean, readers have a decent chance at establishing fulfilling, new patterns."
Publishers Weekly, 12/10/12
"An accessible and informative guide for readers to take control of their lives."
→ You can dip into the first chapter, or check it out on Amazon.com.
Join PsyBlog's 69,466 readers now:
Share/save this article:
Published: 18 June 2012