Money seems to have an almost magical effect on us.
Until recently social scientists didn't know much about the psychology of money. That has changed with an explosion of fascinating findings on how it affects our emotions, our personalities, our sexual behaviour, our risk-taking and society at large.
This series of posts looks at what some of the latest findings can tell us about how the psychology of money affects our day-to-day lives. These insights might allow us to better enjoy our money, spend it more wisely and understand how it affects our behaviour.
» All future articles on the psychology of money will be added below, so for future reference, bookmark this page in del.icio.us.
You might also be interested in my review of Dan Ariely's book about behavioural economics, Predictably Irrational.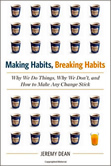 About the author
Dr Jeremy Dean is a psychologist and the author of PsyBlog and HealthiestBlog.com. His latest book is "Making Habits, Breaking Habits: How to Make Changes That Stick". You can follow PsyBlog by email, by RSS feed, on Twitter and Google+.
Published: 4 April 2008