In these economic times we could all use a little advice on how to spend our money wisely.
Help comes from a new survey of research on money and happiness gloriously titled 'If Money Doesn't Make You Happy Then You Probably Aren't Spending It Right' (Dunn et al., 2011).
They are trying to explain this paradox:
"Wealthy people don't just have better toys; they have better nutrition and better medical care, more free time and more meaningful labor—more of just about every ingredient in the recipe for a happy life. And yet, they aren't that much happier than those who have less. If money can buy happiness, then why doesn't it?"
Their answer is that we tend not to maximise our money because the human mind is surprisingly poor at working out what will make it happy. The conclusions they reach aren't just useful for wealthy people, they can help all of us.
Here are the 8 pieces of advice:
Image credit: iChaz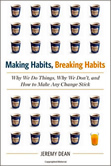 Making Habits, Breaking Habits
In his new book, Jeremy Dean--psychologist and author of PsyBlog--looks at how habits work, why they are so hard to change, and how to break bad old cycles and develop new healthy, creative, happy habits.
→ "Making Habits, Breaking Habits", is available now on Amazon.
Reviews
The Bookseller, "Editor's Pick," 10/12/12
"Sensible and very readable…By far the most useful of this month's New You offerings."
Kirkus Reviews, 1/1/13
"Making changes does take longer than we may expect—no 30-day, 30-pounds-lighter quick fix—but by following the guidelines laid out by Dean, readers have a decent chance at establishing fulfilling, new patterns."
Publishers Weekly, 12/10/12
"An accessible and informative guide for readers to take control of their lives."
→ You can dip into the first chapter, or check it out on Amazon.com.
Join PsyBlog's 69,466 readers now:
Share/save this article:
Published: 16 December 2011