A lecturer at Plymouth University has set up a pilot scheme for treating those with mild to moderate depression that does not involve antidepressants. Patients on the scheme will be prescribed with a self-help book from the local library instead of mood regulating drugs.
Paul Farrand, lecturer in health psychology, argues that an actual prescription for a book will encourage the patient to obtain and read the book. The most obvious advantage of this scheme is that it allows the patient to take control of their future. In psychological research it is the control factor that is often closely associated with changes in behaviour.
> From BBC News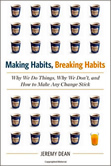 Making Habits, Breaking Habits
In his new book, Jeremy Dean--psychologist and author of PsyBlog--looks at how habits work, why they are so hard to change, and how to break bad old cycles and develop new healthy, creative, happy habits.
→ "Making Habits, Breaking Habits", is available now on Amazon.
Reviews
The Bookseller, "Editor's Pick," 10/12/12
"Sensible and very readable…By far the most useful of this month's New You offerings."
Kirkus Reviews, 1/1/13
"Making changes does take longer than we may expect—no 30-day, 30-pounds-lighter quick fix—but by following the guidelines laid out by Dean, readers have a decent chance at establishing fulfilling, new patterns."
Publishers Weekly, 12/10/12
"An accessible and informative guide for readers to take control of their lives."
→ You can dip into the first chapter, or check it out on Amazon.com.
Join PsyBlog's 69,466 readers now:
Share/save this article:
Published: 9 December 2004