If you find it difficult to remember what you've read, try giving the memory time to consolidate.
I have a great memory for books I've read on trains.
I always thought this had something to do with the nature of train travel: the rocking of the carriage, the rhythm of the stops, the continually changing picture window. Perhaps the combination of all these helps induce a focus which is harder to achieve in familiar circumstances.
Or perhaps the answer is simpler.
Psychologists have found that brief resting periods after learning aids memory. In studies, when people take a little rest after learning, say, a string of numbers, they do better in recall than other people who've been given another task straight away.
It is thought that this little rest helps consolidate the memory, making it easier to retrieve. On the other hand if you go straight on to another task, the memory doesn't have a chance to solidify.
I began to wonder if this suggested why I find it easier to recall books I've read on trains.
Unlike at home where I read continuously, on a train I tend to stop more frequently to look out of the window or see who is getting on at the next stop. These would be exactly the type of restful periods described in this research.
The problem is these findings have only been shown over very short periods. That is until now.
10-minute break
In a new study the effect of a 10-minute break was tested on participants' recall of a story 7 days later (Dewar et al., 2012).
They found that even after 7 days people's memory was enhanced when they took a 10-minute break after reading the story. In fact, 7 days later people who'd taken a break were as good as those trying to recall the story just 15-30 minutes later, but without the break.
So perhaps this helps explain why I have a clearer memory of books I've read on trains.
It also shows that one of the pleasures of reading—pausing to let it wash over you—is not only agreeable but also helps you remember what you've read.
Image credit: Jens Schott Knudsen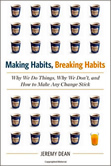 Making Habits, Breaking Habits
In his new book, Jeremy Dean--psychologist and author of PsyBlog--looks at how habits work, why they are so hard to change, and how to break bad old cycles and develop new healthy, creative, happy habits.
→ "Making Habits, Breaking Habits", is available now on Amazon.
Reviews
The Bookseller, "Editor's Pick," 10/12/12
"Sensible and very readable…By far the most useful of this month's New You offerings."
Kirkus Reviews, 1/1/13
"Making changes does take longer than we may expect—no 30-day, 30-pounds-lighter quick fix—but by following the guidelines laid out by Dean, readers have a decent chance at establishing fulfilling, new patterns."
Publishers Weekly, 12/10/12
"An accessible and informative guide for readers to take control of their lives."
→ You can dip into the first chapter, or check it out on Amazon.com.
Join PsyBlog's 69,466 readers now:
Share/save this article:
Published: 28 August 2012