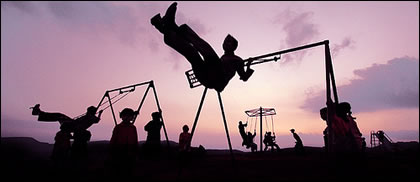 Play is a serious business.
The pioneering developmental psychologist Lev Vygotsky thought that, in the preschool years, play is the leading source of development.
Through play children learn and practice many basic social skills.
They develop a sense of self, learn to interact with other children, how to make friends, how to lie and how to role-play.
The classic study of how play develops in children was carried out by Mildred Parten in the late 1920s at the Institute of Child Development in Minnesota.
She closely observed children between the ages of 2 and 5 years and categorised the types of play.
Parten collected data by systematically sampling the children's behaviour. She observed them for pre-arranged 1 minute periods which were varied systematically (Parten, 1933).
Types of play
The thing to notice is that the first four types of play don't involve much interaction with others, while the last two do.
While children shift between the types of play, what Parten noticed was that as they grew up, children participated less in the first four types of play and more in the last two – those which involved greater interaction.
Unoccupied play

: the child is relatively stationary and appears to be performing random movements with no apparent purpose. A relatively infrequent style of play.

Solitary play

: the child is are completely engrossed in playing and does not seem to notice other children. Most often seen in children between 2 and 3 years-old.

Onlooker play

: child takes an interest in other children's play but does not join in. May ask questions or just talk to other children, but the main activity is simply to watch.

Parallel play

: the child mimics other children's play but doesn't actively engage with them. For example they may use the same toy.

Associative play

: now more interested in each other than the toys they are using. This is the first category that involves strong social interaction between the children while they play.

Cooperative play

: some organisation enters children's play, for example the playing has some goal and children often adopt roles and act as a group.
Unlike Jean Piaget who saw types of play in primarily cognitive developmental terms, Parten emphasised the idea that learning to play is learning how to relate to others.
» This is part of a series on 10 crucial child psychology studies. Read more on the emergence of infant memory, self-concept, learning, attachment, social behaviour, theory of mind, object permanence, language and knowledge.
[Image credit: Seema K K]
Reference
Parten, M. (1933). Social play among preschool children. Journal of Abnormal and Social Psychology, 28, 136-147.
Related articles:
PsyBlog's new ebook, "Spark" is a step-by-step guide to using psychological techniques to achieve the goals you want.
Being passionate about a project or goal — no matter how big or small — makes us feel alive.
It is invigorating to think about the changes you could make in yourself or in the world...
Published: 15 July 2008