When trying to predict what will make us happy in the future, we naturally rely on beliefs we have acquired with experience. Unfortunately these beliefs about the way our emotions operate are frequently misleading.
Experiments have shown that people have a natural tendency to over-generalise beliefs about their emotions to situations where they don't apply. Psychologists call these belief biases.
Here are four belief biases that people often display when trying to predict how an event will make them feel in the future:
Fighting the belief biases
The amount that we are swayed by each of these biases depends on how much we believe in them. So, just reading, remembering and believing (!) this post should allow you fight back against the belief biases, helping you to make decisions that will increase your future happiness.
[Image credit: bubbo-tubbo]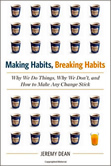 About the author
Dr Jeremy Dean is a psychologist and the author of PsyBlog and HealthiestBlog.com. His latest book is "Making Habits, Breaking Habits: How to Make Changes That Stick". You can follow PsyBlog by email, by RSS feed, on Twitter and Google+.
Published: 27 May 2008