Think our attitudes predict our behaviours? Think we only use 10% of our brains? Think blind people's other senses are more acute? Think again.
[Image credit: Thomas Hawk]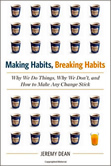 About the author
Dr Jeremy Dean is a psychologist and the author of PsyBlog and HealthiestBlog.com. His latest book is "Making Habits, Breaking Habits: How to Make Changes That Stick". You can follow PsyBlog by email, by RSS feed, on Twitter and Google+.
Published: 18 April 2008