Are your conditions for happiness primarily external? Biochemist turned Buddhist monk Matthieu Ricard has a message for you. The Dalai Lama's right-hand man explains that the mind is malleable and happiness can be learned and measured:
He finishes with this quote:

"Mind training matters. That this is not just a luxury, this is not a supplementary vitamin for the soul. This is something that is going to determine the quality of every instant of our lives. [...] We spend surprisingly little time taking care of what matters most: the way our mind functions, which ultimately determines the quality of our experience."
» The Independent has a short article on Matthieu Ricard.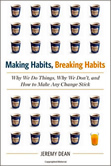 Making Habits, Breaking Habits
In his new book, Jeremy Dean--psychologist and author of PsyBlog--looks at how habits work, why they are so hard to change, and how to break bad old cycles and develop new healthy, creative, happy habits.
→ "Making Habits, Breaking Habits", is available now on Amazon.
Reviews
The Bookseller, "Editor's Pick," 10/12/12
"Sensible and very readable…By far the most useful of this month's New You offerings."
Kirkus Reviews, 1/1/13
"Making changes does take longer than we may expect—no 30-day, 30-pounds-lighter quick fix—but by following the guidelines laid out by Dean, readers have a decent chance at establishing fulfilling, new patterns."
Publishers Weekly, 12/10/12
"An accessible and informative guide for readers to take control of their lives."
→ You can dip into the first chapter, or check it out on Amazon.com.
Join PsyBlog's 69,466 readers now:
Share/save this article:
Published: 2 November 2007