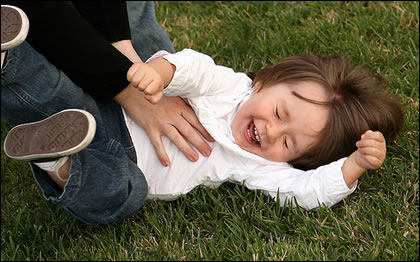 Do we learn to laugh when tickled or is it an innate response? That is the question psychologist Professor Clarence Leuba set himself to examine using his own children, no less, as experimental subjects.
In 1933 he decided that he would not laugh in the presence of his first child while tickling him (Leuba, 1941). Everyday life in the Leuba household, therefore, was devoid of tickling except for one special experimental period. During this period he would cover his own face with a mask while tickling his son so his facial expression was hidden.
Even the tickling was experimentally controlled. First he would tickle lightly, then more vigorously. First under the armpit, then the ribs, followed by chin, neck, knees and feet.
Mrs Leuba slips up
Reportedly all went well until late April 1933 when his wife suddenly forgot all the protocols. After her son's bath she accidentally administered a short bout of bouncing up and down on her knee with laughter while using the words: "Bouncy, bouncy"!
Was the experiment ruined? Leuba wasn't sure. But after seven months, with only one bout of laughter associated with tickling the results were in. His son happily laughed away when tickled. It appeared that laughing when tickled is an innate response.
Leuba wasn't satisfied with this, though, and set about carrying out the same test on his next child, a girl. This time the same experimental procedure was administered and Mrs Leuba's "Bouncy, bouncy" tendencies were apparently kept at bay for seven months. At the end Leuba got the same results - his daughter began to spontaneously laugh when tickled despite never having been shown how.
Tickling tips
But it wasn't all experimental procedures and faces hidden behind masks in the Leuba household, indeed Professor Leuba must have become an expert tickler.
He found the best way to make his children laugh was to tickle them along the ribs and under the arms. The element of surprise was also important in producing maximum giggling response. He observed that his children would control the level of tickling by holding his finger, but would then demand more tickling.
Who says science isn't a laugh?
Reference
Leuba, C. (1941) Tickling and laughter: two genetic studies. Journal of Genetic Psychology, 58, 201-9.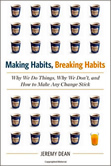 Making Habits, Breaking Habits
In his new book, Jeremy Dean--psychologist and author of PsyBlog--looks at how habits work, why they are so hard to change, and how to break bad old cycles and develop new healthy, creative, happy habits.
→ "Making Habits, Breaking Habits", is available now on Amazon.
Reviews
The Bookseller, "Editor's Pick," 10/12/12
"Sensible and very readable…By far the most useful of this month's New You offerings."
Kirkus Reviews, 1/1/13
"Making changes does take longer than we may expect—no 30-day, 30-pounds-lighter quick fix—but by following the guidelines laid out by Dean, readers have a decent chance at establishing fulfilling, new patterns."
Publishers Weekly, 12/10/12
"An accessible and informative guide for readers to take control of their lives."
→ You can dip into the first chapter, or check it out on Amazon.com.
Join PsyBlog's 69,466 readers now:
Share/save this article:
Published: 1 November 2007