'Unhappy' cities have always been unhappy, new analysis of U.S. satisfaction with life finds.
New York, Pittsburgh and Louisville top the list of unhappiest cities in the U.S., according to a recent government study.
At the other end of the scale, the happiest metropolitan areas in the U.S. are Richmond-Petersburg, VA, Norfolk-Virginia Beach-Newport News, VA and Washington, DC.
The study by the U.S. National Bureau of Economic Research, found that many people in 'unhappy' cities likely sacrifice their happiness in return for lower housing costs and higher incomes (Glaeser et al., 2014).
It relies on a large survey asking people across the U.S. about their satisfaction with life.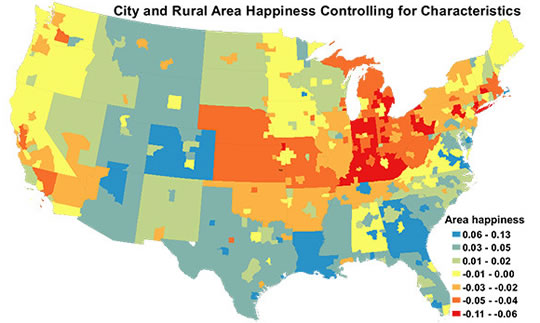 One of the study's authors, Joshua Gottlieb of the University of British Columbia's Vancouver School of Economics, said:
"Our research indicates that people care about more than happiness alone, so other factors may encourage them to stay in a city despite their unhappiness.

This means that researchers and policy-makers should not consider an increase in reported happiness as an overriding objective."
There were also some fascinating trends across all the cities.
Unsurprisingly, people who lived in declining cities tended to be less happy — except that these cities were also unhappier in the past, even when they weren't in decline.
It turned out that people who'd just moved to 'unhappy' cities were equally as unhappy as those who'd lived there for a long time.
Both of these trends suggest that some cities are unhappy places in the long-term.
Here are the unhappiest metropolitan areas with populations over 1 million:
New York, NY
Pittsburgh, PA
Louisville, KY
Milwaukee, WI
Detroit, MI
Indianapolis, IN
St. Louis, MO
Las Vegas, NV
Buffalo, NY
Philadelphia, PA
These are the happiest metropolitan areas with populations over 1 million:
Richmond-Petersburg, VA
 Norfolk-Virginia Beach-Newport News, VA
Washington, DC
Raleigh-Durham, NC
Atlanta, GA
Houston, TX
Jacksonville, FL
Nashville, TN
West Palm Beach-Boca Raton, FL
Middlesex-Somerset-Hunterdon, NJ
Here are the unhappiest metropolitan areas with populations under 1 million:
Scranton, PA
St. Joseph, MO
Erie, PA
South Bend, IN
Jersey City, NJ
Johnstown, PA
Non-metropolitan West Virginia
Springfield, MA
New York, NY
Evansville-Henderson, IN-KY
Here are the happiest metropolitan areas with populations under 1 million:
Charlottesville, VA
Rochester, MN
Lafayette, LA
Naples, FL
Baton Rouge, LA
Flagstaff, AZ
Shreveport, LA
Houma, LA
Corpus Christi, TX
Provo, UT
Image credit: BKL