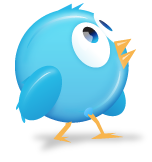 PsyBlog is now on Twitter, right here.
So many people have kindly been sharing articles from PsyBlog with others on Twitter that the tweet count for recent articles is now fairly hefty. Thanks very much to all the Twitterers who've been spreading the word!
PsyBlog's Twitter feed is another way to keep up to date with the latest articles published on the site. You can get much the same result by adding PsyBlog to your feedreader or by requesting email updates. More info on both of those options here.
(Please note that the Twitter feed will only be updated to flag new articles on PsyBlog.)