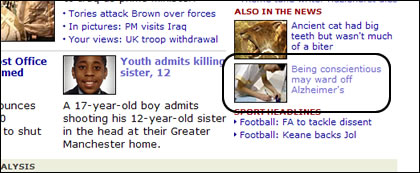 There is some classic misinformation in the reporting of a new Alzheimer's study on the BBC News website. Entitled 'Discipline' may beat Alzheimer's the first part of the story suggests the personality variable of conscientiousness might protect against developing Alzheimer's. The link from the homepage states boldly, "Being conscientious may ward off Alzheimer's." In fact this line is a far cry from the study which merely finds a correlation between high conscientiousness and lower levels of Alzheimer's.
As all first-year psych students learn, just because there is an association between two variables, it doesn't mean one causes the other. I'm sure many of you will be familiar with this argument but it bears continual repeating as journalist never stop making this mistake.
Hidden down at the bottom of the article are quotes from people at the Alzheimer's Society and the Alzheimer's Research Trust making this point, but by then most people have absorbed the main message and moved on.
Presumably this is the BBC's fabled 'balance': have one side imply there is evidence that conscientiousness is a causal component in Alzheimer's (the journalist) and the other saying it's not (scientists). But make sure journalists put their own misleading interpretation first.
When I think about the level of misinformation disseminated by 'trusted' media outlets it reminds me once again how often they are wide of the mark on science stories.
» Read the abstract of the original study.
» Does your business need to reach the 'Google generation'? Find out more about advertising on PsyBlog and contact me.