Mild to moderate forms of depression are often amenable to pharmacological or psychological approaches, but severe depression is a different matter. The successful treatment of very deep depression is something of a Holy Grail for many in the mental health field.
This is why invasive procedures such as Deep Brain Stimulation and now Vagus Nerve Stimulation (VNS) are of such interest. VNS involves implanting a kind of pacemaker into the chest that delivers electrical impulses to the mood centres of the brain every five minutes.
This latest research found that around a quarter of patients experienced a complete remission from their symptoms after extended treatment.
University of Texas

Article on VNS as well as some people's treatment experiences.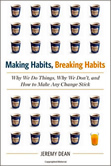 Making Habits, Breaking Habits
In his new book, Jeremy Dean--psychologist and author of PsyBlog--looks at how habits work, why they are so hard to change, and how to break bad old cycles and develop new healthy, creative, happy habits.
→ "Making Habits, Breaking Habits", is available now on Amazon.
Reviews
The Bookseller, "Editor's Pick," 10/12/12
"Sensible and very readable…By far the most useful of this month's New You offerings."
Kirkus Reviews, 1/1/13
"Making changes does take longer than we may expect—no 30-day, 30-pounds-lighter quick fix—but by following the guidelines laid out by Dean, readers have a decent chance at establishing fulfilling, new patterns."
Publishers Weekly, 12/10/12
"An accessible and informative guide for readers to take control of their lives."
→ You can dip into the first chapter, or check it out on Amazon.com.
Join PsyBlog's 69,466 readers now:
Share/save this article:
Published: 31 August 2005