…but not against his will – they're still working on that:

"A paralysed man in the US has become the first person to benefit from a brain chip that reads his mind. Matthew Nagle, 25, was left paralysed from the neck down and confined to a wheelchair after a knife attack in 2001. The pioneering surgery at New England Sinai Hospital, Massachusetts, last summer means he can now control everyday objects by thought alone. The brain chip reads his mind and sends the thoughts to a computer to decipher."
BBC News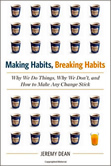 About the author
Dr Jeremy Dean is a psychologist and the author of PsyBlog and HealthiestBlog.com. His latest book is "Making Habits, Breaking Habits: How to Make Changes That Stick". You can follow PsyBlog by email, by RSS feed, on Twitter and Google+.
Published: 31 March 2005