You know that old philosophical question: How do I know we both see the same colour when we look up at a blue sky? Some research just published asks the same type of question, but of our sense of taste.
The study shows that our tongues respond quite differently to a particular bitter taste synthesised in the laboratory. In fact, some people are a 1,000 times more sensitive to this chemical than others. This seems to be a direct result of genetic differences between us.
It's this kind of research that underlines the fact that our most basic senses can differ in fundamental ways.
→ A summary of the research and the full heavyweight report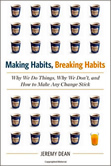 Making Habits, Breaking Habits
In his new book, Jeremy Dean--psychologist and author of PsyBlog--looks at how habits work, why they are so hard to change, and how to break bad old cycles and develop new healthy, creative, happy habits.
→ "Making Habits, Breaking Habits", is available now on Amazon.
Reviews
The Bookseller, "Editor's Pick," 10/12/12
"Sensible and very readable…By far the most useful of this month's New You offerings."
Kirkus Reviews, 1/1/13
"Making changes does take longer than we may expect—no 30-day, 30-pounds-lighter quick fix—but by following the guidelines laid out by Dean, readers have a decent chance at establishing fulfilling, new patterns."
Publishers Weekly, 12/10/12
"An accessible and informative guide for readers to take control of their lives."
→ You can dip into the first chapter, or check it out on Amazon.com.
Join PsyBlog's 69,466 readers now:
Share/save this article:
Published: 25 February 2005