As it's the Easter weekend you might have a few minutes for quiet contemplation. If so then try doing a personality test. This one is based around what psychologists call "The Big Five". These are the main five traits that have been found to best describe people's behaviour.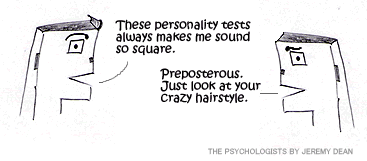 This particular test also gives you the sub-divisions within each trait. You may already know that you're an extrovert for example, but how do you compare to others in gregariousness, cheerfulness or assertiveness?
→ Explore PsyBlog's ebooks, all written by Dr Jeremy Dean:
There's 120 questions in this one but it doesn't take that long to complete. Go on, you just might learn something.


The Test