Everyone zones out from time-to-time while reading, but how much is normal?
Everyone has had the experience of reading a few pages of a book and then suddenly noticing none of it has gone in. But how common is this experience?
A study by Schooler et al., (2004) suggests it's fairly common:
"On average participants caught themselves zoning out approximately 5.4 times during the 45 min reading period. Several findings were consistent with the hypothesis that people are often (at least initially) unaware of the fact that they are zoning out."
This means you're not always aware of when you're zoning out. To combat this the experimenters used a system to catch people zoning out. This found that they were zoning out from reading about 13% of the time. And what were they thinking about while zoning out?
"...they were only very rarely (less than 3%) thinking about what they were reading when they reported zoning out. Although they sometimes reported thinking about nothing at all (18%), more often participants reported thinking about specific things, such as school-related topics (27%), fantasies (19%), and themselves (11%)." (Schooler et al., 2004)
So we are often unaware that our minds are wandering from what we are reading, even when it's a gripping Amazon bestseller
rather than a boring textbook.
In fact, mind wandering is very common:
"Killingsworth and Gilbert (2010) sampled the experience of 2,250 US adults at random intervals. Each time participants reported, through their smartphone, how they were feeling and what they were doing. Almost half the time people were asked, at that moment their minds were wandering from whatever they were doing—43% to pleasant topics, 27% to unpleasant topics and the rest to neutral topics. The only time their minds weren't wandering was when they were having sex." (From: Does Keeping Busy Make us Happy?)
If our minds wander only 13% of the time when we're reading, that's actually pretty good compared to an average of 50% for everyday life.
Image credit: Mark Sebastian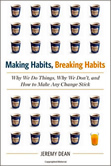 Making Habits, Breaking Habits
In his new book, Jeremy Dean--psychologist and author of PsyBlog--looks at how habits work, why they are so hard to change, and how to break bad old cycles and develop new healthy, creative, happy habits.
→ "Making Habits, Breaking Habits", is available now on Amazon.
Reviews
The Bookseller, "Editor's Pick," 10/12/12
"Sensible and very readable…By far the most useful of this month's New You offerings."
Kirkus Reviews, 1/1/13
"Making changes does take longer than we may expect—no 30-day, 30-pounds-lighter quick fix—but by following the guidelines laid out by Dean, readers have a decent chance at establishing fulfilling, new patterns."
Publishers Weekly, 12/10/12
"An accessible and informative guide for readers to take control of their lives."
→ You can dip into the first chapter, or check it out on Amazon.com.
Join PsyBlog's 69,466 readers now:
Share/save this article:
Published: 12 June 2012