Behavioural mimicry can increase liking, but can it be overdone?
Yes.
According to Leander et al. (2012):
"In three studies, we found that people literally feel colder in response to inappropriate amounts of behavioral mimicry"
That's because:
"There exist implicit standards for how much nonverbal behavioral mimicry is appropriate in various types of social interactions"
So, how much is too much?
"Our results also highlight the importance of (implicitly) knowing when to mimic other people and when it is okay to be mimicked by them..."
In other words: it depends on the situation and you have to trust your instincts, but be aware that blanket mirroring of other people's body language can come across as plain weird. People who mimic body language indiscriminately literally give us chills.
Image credit: Chuck Olsen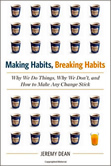 Making Habits, Breaking Habits
In his new book, Jeremy Dean--psychologist and author of PsyBlog--looks at how habits work, why they are so hard to change, and how to break bad old cycles and develop new healthy, creative, happy habits.
→ "Making Habits, Breaking Habits", is available now on Amazon.
Reviews
The Bookseller, "Editor's Pick," 10/12/12
"Sensible and very readable…By far the most useful of this month's New You offerings."
Kirkus Reviews, 1/1/13
"Making changes does take longer than we may expect—no 30-day, 30-pounds-lighter quick fix—but by following the guidelines laid out by Dean, readers have a decent chance at establishing fulfilling, new patterns."
Publishers Weekly, 12/10/12
"An accessible and informative guide for readers to take control of their lives."
→ You can dip into the first chapter, or check it out on Amazon.com.
Join PsyBlog's 69,466 readers now:
Share/save this article:
Published: 8 June 2012