A new survey published today in the British Medical Journal has found 'substantial levels of stress' amongst 31% of Londoners as a result of the London bombings. The survey questioned 1,010 people between 11 and 13 days after the London was rocked by terrorists bombings on the 7th July 2005.
Researchers randomly dialled telephone numbers asking Londoners to participate.
Amongst the other findings were:
55% of people felt their lives were in danger from terrorism.

58% felt friends and family were in danger from terrorism.

86% felt that another attack was likely - 86% were, sadly, right.

Fully one-third of Londoners intended to change their mode of transport as a result.

Previous experience of terrorism was linked to lower levels of stress.

Inability to contact friends and family linked to higher stress.

Higher levels of distress found in non-white and Muslim Londonders.
The researchers acknowledge that a weakness of their study is that those who were unaffected by the bombings may have been less likely to agree to inclusion in the study. Still, 31% is high.
In response the NHS have set up a telephone helpline for those affected which will screen for post-traumatic stress disorder. The phone number is 0845 9502878.
Psychological and behavioural reactions to the bombings in London on 7 July 2005: cross sectional survey of a representative sample of Londoners [Full article, PDF]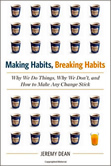 Making Habits, Breaking Habits
In his new book, Jeremy Dean--psychologist and author of PsyBlog--looks at how habits work, why they are so hard to change, and how to break bad old cycles and develop new healthy, creative, happy habits.
→ "Making Habits, Breaking Habits", is available now on Amazon.
Reviews
The Bookseller, "Editor's Pick," 10/12/12
"Sensible and very readable…By far the most useful of this month's New You offerings."
Kirkus Reviews, 1/1/13
"Making changes does take longer than we may expect—no 30-day, 30-pounds-lighter quick fix—but by following the guidelines laid out by Dean, readers have a decent chance at establishing fulfilling, new patterns."
Publishers Weekly, 12/10/12
"An accessible and informative guide for readers to take control of their lives."
→ You can dip into the first chapter, or check it out on Amazon.com.
Join PsyBlog's 69,466 readers now:
Share/save this article:
Published: 26 August 2005