Last weekend the British Psychological Society had its Annual Conference. It's a chance for psychologists to show off what they've been up to for the last year. Here's some of the research that caught my eye.
The key to finding love on the net is honesty. Would you believe that it's bad for your chances of finding true love if you lie about your personal appearance? And yet how many people are still doing this? A lot.
If you're still unsuccessfully trying to give up smoking then psychologists may know why. Apparently it makes all the normal activities of life less pleasurable. Certainly disheartening news for those trying to give up, but still it can help to know the worst.
As people are finding more health related information on the internet, GPs are re-evaluating their roles. Instead of being the initial point of access to knowledge, they now tend to see themselves more as information filters.
In a related vein, researchers are also asking which websites people trust when looking for health information. The findings make for worrying reading: people were ignoring reputable organisation in favour of more 'attractive' sites.
Confident communicators are more persuasive. So you've got to fake it 'till you make it.
But don't worry if it all gets too much for you then there is one easy way to make the pain go away and reduce your anxiety: listen to some music.

The British Psychological Society Annual Conference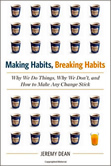 Making Habits, Breaking Habits
In his new book, Jeremy Dean--psychologist and author of PsyBlog--looks at how habits work, why they are so hard to change, and how to break bad old cycles and develop new healthy, creative, happy habits.
→ "Making Habits, Breaking Habits", is available now on Amazon.
Reviews
The Bookseller, "Editor's Pick," 10/12/12
"Sensible and very readable…By far the most useful of this month's New You offerings."
Kirkus Reviews, 1/1/13
"Making changes does take longer than we may expect—no 30-day, 30-pounds-lighter quick fix—but by following the guidelines laid out by Dean, readers have a decent chance at establishing fulfilling, new patterns."
Publishers Weekly, 12/10/12
"An accessible and informative guide for readers to take control of their lives."
→ You can dip into the first chapter, or check it out on Amazon.com.
Join PsyBlog's 69,466 readers now:
Share/save this article:
Published: 8 April 2005