"Children who "miss" things on their left field of vision may have attention deficit hyperactivity disorder, Medical Research Council scientists say."
→ From BBC News
Do you want to understand your mind?
Get email updates from PsyBlog. No spam. Ever.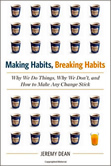 About the author
Dr Jeremy Dean is a psychologist and the author of PsyBlog. His latest book is "Making Habits, Breaking Habits: How to Make Changes That Stick". You can follow PsyBlog by email, by RSS feed, on Twitter and Google+.
Published: 28 February 2005