New research, "…suggest that males with more feminine features are more widely attractive to women. Women who consider themselves highly attractive however, are more likely to go for classically masculine faces."
→ From (the excellent) Mind Hacks blog
Want to understand your mind?
Get FREE email updates from PsyBlog.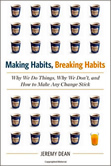 About the author
Dr Jeremy Dean is a psychologist and the author of PsyBlog. His latest book is "Making Habits, Breaking Habits: How to Make Changes That Stick". You can follow PsyBlog by email, by RSS feed, on Twitter and Google+.
Published: 13 February 2005