New research published in the BMJ this week reviews years of research into the link between antidepressants and suicide. The results are mixed and the statistics are open to intepretation. So some of the papers (*SIGH*) go with the usual option of putting the word 'fear' in the headline to cover their ignorance. I wonder if their aim is to inform, entertain or scare the living bejesus out of anyone taking them?
When the results cannot be summarised in one sentence, even a very long Guardian sentence, the papers get confused. One of the few papers that has actually written something intelligent about the study is, yet again, the New York Times.
→ From the New York Times (Free registration required)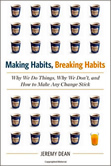 Making Habits, Breaking Habits
In his new book, Jeremy Dean--psychologist and author of PsyBlog--looks at how habits work, why they are so hard to change, and how to break bad old cycles and develop new healthy, creative, happy habits.
→ "Making Habits, Breaking Habits", is available now on Amazon.
Reviews
The Bookseller, "Editor's Pick," 10/12/12
"Sensible and very readable…By far the most useful of this month's New You offerings."
Kirkus Reviews, 1/1/13
"Making changes does take longer than we may expect—no 30-day, 30-pounds-lighter quick fix—but by following the guidelines laid out by Dean, readers have a decent chance at establishing fulfilling, new patterns."
Publishers Weekly, 12/10/12
"An accessible and informative guide for readers to take control of their lives."
→ You can dip into the first chapter, or check it out on Amazon.com.
Join PsyBlog's 69,466 readers now:
Share/save this article:
Published: 18 February 2005