Optimists may live longer but with Bush looking like he'll get a second term, they're obviously sadly deluded.
> Go to Harvard Medical School
> Go to anywhere else you care to mention to get the latest on the presidential election.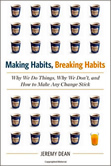 About the author
Dr Jeremy Dean is a psychologist and the author of PsyBlog and HealthiestBlog.com. His latest book is "Making Habits, Breaking Habits: How to Make Changes That Stick". You can follow PsyBlog by email, by RSS feed, on Twitter and Google+.
Published: 3 November 2004