One in five women and one in twenty men will suffer from being stalked at some point in their lives. It is still a very little understood and often disturbing crime. To investigate this area the Network for Surviving Stalking in conjunction with the Uni of Leicester are conducting research. If you have ever been stalked then they are conducting a survey you can take part in online.
> From BBC News
> Go to the Stalking Survey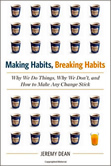 About the author
Dr Jeremy Dean is a psychologist and the author of PsyBlog and HealthiestBlog.com. His latest book is "Making Habits, Breaking Habits: How to Make Changes That Stick". You can follow PsyBlog by email, by RSS feed, on Twitter and Google+.
Published: 6 October 2004