Having blogged earlier this month about evidence that writing a diary might be bad for you, I'm happy to redress the balance. Not only does this article point out the benefits of writing but it also gives a few tips for creative writing, a subject close to my heart.
> From Psychology Today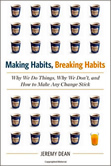 About the author
Dr Jeremy Dean is a psychologist and the author of PsyBlog and HealthiestBlog.com. His latest book is "Making Habits, Breaking Habits: How to Make Changes That Stick". You can follow PsyBlog by email, by RSS feed, on Twitter and Google+.
Published: 24 September 2004