Raise your self-esteem with a computer game
Back in the days when I allowed myself to play computer games I used to find Quake extremely good for venting anger. I don't think it did anything for my self-esteem though. Mainly it just made me want to use a chainsaw to rip people's heads off. Researchers at McGill University have more constructive ideas.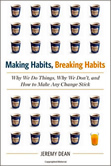 About the author
Dr Jeremy Dean is a psychologist and the author of PsyBlog and HealthiestBlog.com. His latest book is "Making Habits, Breaking Habits: How to Make Changes That Stick". You can follow PsyBlog by email, by RSS feed, on Twitter and Google+.
Published: 10 May 2004