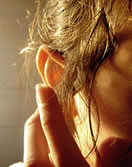 If you want someone to comply with a random request for a cigarette, you should speak into their right ear, according to a new study by researchers in Italy.
Marzoli & Tommasi (2009) had a female confederate visit a disco and approach 176 random people asking for a smoke. Clubbers were about twice as likely to hand one over if the request was directed at the right ear, whether or not the clubber was male or female. Whether these findings will hold good for other types of request is unknown.
These findings confirm previous studies which have found a right-ear preference for attending to and processing verbal stimuli. It is thought that this is because language is preferentially processed by the left side of the brain, which receives its input from the right ear.
This right-ear preference was confirmed in an observational study also carried out by Marzoli and Tommas. Both men and women in the club were observed to use their right ear 72% of the time to listen to their conversational partners.
Mobile phones
People's preferred ear when using a telephone, though, has proved more controversial. Early studies carried out in the 80s suggested that people preferred to hold it to their left ear, not their right. But this was in the days before mobile phones and perhaps people were more used to leaving their right hand free for dialling or taking notes.
However more recent unpublished data from mobile phone users does suggest people prefer holding their phone to their right ear (Sanchez et al., 2002).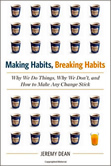 Making Habits, Breaking Habits
In his new book, Jeremy Dean--psychologist and author of PsyBlog--looks at how habits work, why they are so hard to change, and how to break bad old cycles and develop new healthy, creative, happy habits.
→ "Making Habits, Breaking Habits", is available now on Amazon.
Reviews
The Bookseller, "Editor's Pick," 10/12/12
"Sensible and very readable…By far the most useful of this month's New You offerings."
Kirkus Reviews, 1/1/13
"Making changes does take longer than we may expect—no 30-day, 30-pounds-lighter quick fix—but by following the guidelines laid out by Dean, readers have a decent chance at establishing fulfilling, new patterns."
Publishers Weekly, 12/10/12
"An accessible and informative guide for readers to take control of their lives."
→ You can dip into the first chapter, or check it out on Amazon.com.
Join PsyBlog's 69,466 readers now:
Share/save this article:
Published: 24 June 2009