Continuing my investigation of unity in psychology - whether it's possible, why it's not there already, what can be done about it - I've discovered another supporter of the institutional/organisational hypothesis of psychology's woes.
Katzko (2004) points out that psychology is a 'federation of sub-disciplines' and that diversity is not problem, instead it is psychology's disorganisation that needs addressing. Katzko (2002) argues that this type of disorganisation is actually created by a discontent about the methodological basis of psychology.
To use a primitive analogy: members of each tribe in psychological research keep to their own tools for hunting. It's the use of the same tools that provide the social bonds that keeps the epistemological groups together.
Katzko (2004) goes on to say that psychology doesn't need unification in a top-down method but rather unification bubbles up from below.
Both of these arguments seems to me to be much the same as already made by Sternberg & Grigorenko (2001).
Katzko (2004) Psychology's dilemma: an institutional neurosis? (Abstract)

Katzko (2002) The rhetoric of psychological research and the problem of unification in psychology. (Abstract)

Read more PsyBlog posts on Unity in Psychology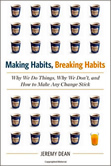 Making Habits, Breaking Habits
In his new book, Jeremy Dean--psychologist and author of PsyBlog--looks at how habits work, why they are so hard to change, and how to break bad old cycles and develop new healthy, creative, happy habits.
→ "Making Habits, Breaking Habits", is available now on Amazon.
Reviews
The Bookseller, "Editor's Pick," 10/12/12
"Sensible and very readable…By far the most useful of this month's New You offerings."
Kirkus Reviews, 1/1/13
"Making changes does take longer than we may expect—no 30-day, 30-pounds-lighter quick fix—but by following the guidelines laid out by Dean, readers have a decent chance at establishing fulfilling, new patterns."
Publishers Weekly, 12/10/12
"An accessible and informative guide for readers to take control of their lives."
→ You can dip into the first chapter, or check it out on Amazon.com.
Join PsyBlog's 69,466 readers now:
Share/save this article:
Published: 10 August 2006