Review of the new biography of Stanley Milgram - architect of one of the most famous experiments in social psychology - by Raj Persaud in the British Medical Journal:

"The late Stanley Milgram fairly lays claim to be one of the greatest behavioural scientists of the 20th century.

He derives his renown from of a series of experiments on obedience to authority, which he conducted at Yale University in 1961-2. Milgram found, surprisingly, that 65% of his subjects, ordinary residents of New Haven, were willing to give apparently harmful electric shocks - up to 450 volts - to a pitifully protesting victim, simply because a scientific, lab coated authority commanded them to, and despite the fact that the victim did nothing to deserve such punishment. The victim was, in reality, a good actor who did not actually receive shocks, a fact that was revealed to the subjects at the end of the experiment."
Review of The Man Who Shocked The World

Description of the experiment that 'shocked the world'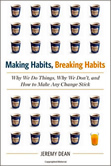 Making Habits, Breaking Habits
In his new book, Jeremy Dean--psychologist and author of PsyBlog--looks at how habits work, why they are so hard to change, and how to break bad old cycles and develop new healthy, creative, happy habits.
→ "Making Habits, Breaking Habits", is available now on Amazon.
Reviews
The Bookseller, "Editor's Pick," 10/12/12
"Sensible and very readable…By far the most useful of this month's New You offerings."
Kirkus Reviews, 1/1/13
"Making changes does take longer than we may expect—no 30-day, 30-pounds-lighter quick fix—but by following the guidelines laid out by Dean, readers have a decent chance at establishing fulfilling, new patterns."
Publishers Weekly, 12/10/12
"An accessible and informative guide for readers to take control of their lives."
→ You can dip into the first chapter, or check it out on Amazon.com.
Join PsyBlog's 69,466 readers now:
Share/save this article:
Published: 8 August 2005