Here's a study that's guaranteed to set psychologists' minds a-spinning with ethical issues. Professor Loftus (left) at the University of California managed to put participants off strawberry ice cream, pickles and hard-boiled eggs by implanting false childhood memories:
"In the strawberry ice cream experiment a group of students were asked to fill out forms about their food experiences and preferences. Some of the subjects were then given a computer analysis which falsely said they had become sick from eating strawberry ice cream as children. Almost 20% later agreed in a questionnaire that strawberry ice cream had made them sick and that they intended to avoid it in the future."



Future studies plan to implant positive memories of fresh vegetables.
→ The Guardian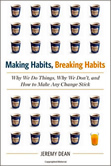 About the author
Dr Jeremy Dean is a psychologist and the author of PsyBlog and HealthiestBlog.com. His latest book is "Making Habits, Breaking Habits: How to Make Changes That Stick". You can follow PsyBlog by email, by RSS feed, on Twitter and Google+.
Published: 3 August 2005