Mind Hacks have a good entry on how mental illness is shaped by culture:
"Media analysis magazine Stay Free! has an interview with medical historian Edward Shorter on how psychiatric symptoms have changed over the years, showing, he claims, how we subconsciously express culturally acceptable distress."
Mind Hacks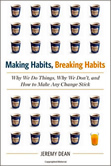 About the author
Dr Jeremy Dean is a psychologist and the author of PsyBlog and HealthiestBlog.com. His latest book is "Making Habits, Breaking Habits: How to Make Changes That Stick". You can follow PsyBlog by email, by RSS feed, on Twitter and Google+.
Published: 2 August 2005