Since the terrorist attacks in London yesterday, we have all been glued to the TV for the latest news. The images and stories of blood splattered survivors and long shots of those less fortunate have shocked and saddened us. And yet we can't look away, despite the fact that research suggests that watching may cause Post-Traumatic Stress Disorder. Why do we seek out images and reports that are likely to be upsetting and perhaps disturbing?
Keinan, Sadeh and Rosen (2003) outline three psychological theories that help to explain this strange desire. Information seeking theory suggests that uncertainty causes conflict and increases arousal, so finding out what is going on reduces uncertainty and therefore reduces arousal. Safety signal theory places the emphasis on delineating safe from unsafe periods of time. We are continually asking ourselves whether the storm has blown over yet, whether it is safe to go outside or enter the danger zone. A final theory suggests that information gives us a sense of control over an event, even though it is essentially beyond our control.
Whichever theory is true, there is a lot more to our grim fascination with this type of event than simple voyeurism.

Attitudes and Reactions to Media Coverage of Terrorist Acts (Abstract)

More on London bombings: Profile of a Terrorist, Psychology of Terrorism and Guardian Journos Disorientated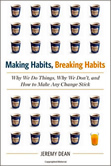 Making Habits, Breaking Habits
In his new book, Jeremy Dean--psychologist and author of PsyBlog--looks at how habits work, why they are so hard to change, and how to break bad old cycles and develop new healthy, creative, happy habits.
→ "Making Habits, Breaking Habits", is available now on Amazon.
Reviews
The Bookseller, "Editor's Pick," 10/12/12
"Sensible and very readable…By far the most useful of this month's New You offerings."
Kirkus Reviews, 1/1/13
"Making changes does take longer than we may expect—no 30-day, 30-pounds-lighter quick fix—but by following the guidelines laid out by Dean, readers have a decent chance at establishing fulfilling, new patterns."
Publishers Weekly, 12/10/12
"An accessible and informative guide for readers to take control of their lives."
→ You can dip into the first chapter, or check it out on Amazon.com.
Join PsyBlog's 69,466 readers now:
Share/save this article:
Published: 8 July 2005