There's an update on Donald Herbert's condition in the NYT, apparently he has become less animated. We'll have to wait and see what happens…

Who is Donald Herbert?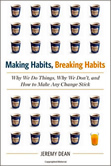 About the author
Dr Jeremy Dean is a psychologist and the author of PsyBlog and HealthiestBlog.com. His latest book is "Making Habits, Breaking Habits: How to Make Changes That Stick". You can follow PsyBlog by email, by RSS feed, on Twitter and Google+.
Published: 6 May 2005