Ten years ago a firefighter in Buffalo, Donald Herbert, rushed into a burning building looking for survivors. He was knocked out by a collapsing roof, taken to hospital and remained in a coma for two and a half months. A year later he regained consciousness but did not recognise his wife and four children and seemed to have no idea who he was.
Ten years later, last Saturday, he really woke up:
"I want to talk to my wife," Mr. Herbert was quoted as saying. A staff member called his wife, Linda, but it was his youngest son, Nicholas, 13, who picked up the phone and began speaking.

"That can't be," Mr. Herbert said. "He's just a baby. He can't talk."
UPDATE: Donald Herbert 'Minimally Conscious' Unlike Terri Schiavo
New York Times [Free Reg. Req.] [via Mind Hacks]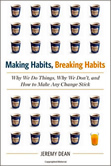 Making Habits, Breaking Habits
In his new book, Jeremy Dean--psychologist and author of PsyBlog--looks at how habits work, why they are so hard to change, and how to break bad old cycles and develop new healthy, creative, happy habits.
→ "Making Habits, Breaking Habits", is available now on Amazon.
Reviews
The Bookseller, "Editor's Pick," 10/12/12
"Sensible and very readable…By far the most useful of this month's New You offerings."
Kirkus Reviews, 1/1/13
"Making changes does take longer than we may expect—no 30-day, 30-pounds-lighter quick fix—but by following the guidelines laid out by Dean, readers have a decent chance at establishing fulfilling, new patterns."
Publishers Weekly, 12/10/12
"An accessible and informative guide for readers to take control of their lives."
→ You can dip into the first chapter, or check it out on Amazon.com.
Join PsyBlog's 69,466 readers now:
Share/save this article:
Published: 4 May 2005