The heated debate on the average differences between the minds of men and women rumbles on. A perfectly rational and psychologically sound article published earlier this week in The Guardian elicited some furious letters from readers.

Helena Cronin makes all the usual and unassailable points about psychological sex differences and then draws evolutionary psychology into the argument. Whether you buy the evolutionary aspect of her argument or not - and many psychologists hate the evolutionary approach with a vengeance - the article does accurately represent the scientific evidence available.
None of the letters published in the paper criticised her science, one in fact admonished her for talking about science at all, saying:

"Helena Cronin is wrong to bring science into a discussion of the possible differences between the minds of men and women."
The real subtext, of course, is political:

"There is much that is offensive in Helena Cronin's attempts to rehash sexual stereotypes as scientific realities..."
By contrast, articles like this one entitled "It is official: Women are better drivers than men", won't even raise an eyebrow. And why should they?

From IC Wales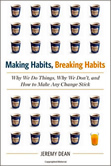 Making Habits, Breaking Habits
In his new book, Jeremy Dean--psychologist and author of PsyBlog--looks at how habits work, why they are so hard to change, and how to break bad old cycles and develop new healthy, creative, happy habits.
→ "Making Habits, Breaking Habits", is available now on Amazon.
Reviews
The Bookseller, "Editor's Pick," 10/12/12
"Sensible and very readable…By far the most useful of this month's New You offerings."
Kirkus Reviews, 1/1/13
"Making changes does take longer than we may expect—no 30-day, 30-pounds-lighter quick fix—but by following the guidelines laid out by Dean, readers have a decent chance at establishing fulfilling, new patterns."
Publishers Weekly, 12/10/12
"An accessible and informative guide for readers to take control of their lives."
→ You can dip into the first chapter, or check it out on Amazon.com.
Join PsyBlog's 69,466 readers now:
Share/save this article:
Published: 18 March 2005