How much money will you have next week? How much time will you have next week? Chances are you are thinking much more time than money according to a study published this week. And if you're unemployed then you're probably right. Otherwise you're probably wrong. To the human mind, time really doesn't equal money – we treat the two quantities in quite different ways.
→ From The New York Times (Free registration required)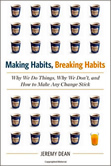 About the author
Dr Jeremy Dean is a psychologist and the author of PsyBlog and HealthiestBlog.com. His latest book is "Making Habits, Breaking Habits: How to Make Changes That Stick". You can follow PsyBlog by email, by RSS feed, on Twitter and Google+.
Published: 22 February 2005