Albert Ellis trained as a psychotherapist in the 50s but soon decided Freudian therapy was just too slow and passive. He developed his own methods, now called Rational Emotive Behaviour Therapy, designed to get results more quickly. This laid the foundations for what has become known as Cognitive Behaviour Therapy - a very successful modern form of treatment.
Here he explains his forthright philosophy of life and why he doesn't care what other people think - unless they're patients of course!
> From Psychology Today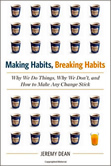 Making Habits, Breaking Habits
In his new book, Jeremy Dean--psychologist and author of PsyBlog--looks at how habits work, why they are so hard to change, and how to break bad old cycles and develop new healthy, creative, happy habits.
→ "Making Habits, Breaking Habits", is available now on Amazon.
Reviews
The Bookseller, "Editor's Pick," 10/12/12
"Sensible and very readable…By far the most useful of this month's New You offerings."
Kirkus Reviews, 1/1/13
"Making changes does take longer than we may expect—no 30-day, 30-pounds-lighter quick fix—but by following the guidelines laid out by Dean, readers have a decent chance at establishing fulfilling, new patterns."
Publishers Weekly, 12/10/12
"An accessible and informative guide for readers to take control of their lives."
→ You can dip into the first chapter, or check it out on Amazon.com.
Join PsyBlog's 69,466 readers now:
Share/save this article:
Published: 25 January 2005