Recognising other people by decoding the subtle contours of their face is a complicated task that we take for granted. But imagine if all faces looked the same and you couldn't tell whether someone was a stranger or your mother. Welcome to the world of the face-blind.
Prosopagnosia, the technical term for face-blindness, is an unusual condition the neurologist Oliver Sacks described in his bestselling book: The Man Who Mistook His Wife For a Hat.
Those with this condition are often no different from the rest of us in every other way. Because of this it is easy for people to go through life without realising there is an aspect of their perception that is quite unusual.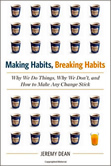 Making Habits, Breaking Habits
In his new book, Jeremy Dean--psychologist and author of PsyBlog--looks at how habits work, why they are so hard to change, and how to break bad old cycles and develop new healthy, creative, happy habits.
→ "Making Habits, Breaking Habits", is available now on Amazon.
Reviews
The Bookseller, "Editor's Pick," 10/12/12
"Sensible and very readable…By far the most useful of this month's New You offerings."
Kirkus Reviews, 1/1/13
"Making changes does take longer than we may expect—no 30-day, 30-pounds-lighter quick fix—but by following the guidelines laid out by Dean, readers have a decent chance at establishing fulfilling, new patterns."
Publishers Weekly, 12/10/12
"An accessible and informative guide for readers to take control of their lives."
→ You can dip into the first chapter, or check it out on Amazon.com.
Join PsyBlog's 69,466 readers now:
Share/save this article:
Published: 5 December 2004