One reason that depression is so difficult to treat is that it can have a wide range of causes. If, as in most cases, an anti-depressant is prescribed, it is hard to predict exactly how a patient's condition will interact with the drug.
Recently Seroxat's developers GlaxoSmithKline have received considerable bad publicity about the drug's dangerous side effects. The evidence is mounting that it may not be suitable for treating children. Research has found that after taking Seroxat, children can experience an increase in suicidal thoughts.
There is a growing awareness that psychoactive treatments do not make the best default option for treating depression. Unfortunately they represent the easy option and of course make huge profits for the pharmaceutical industry.
> From The Guardian
> From The Observer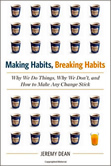 Making Habits, Breaking Habits
In his new book, Jeremy Dean--psychologist and author of PsyBlog--looks at how habits work, why they are so hard to change, and how to break bad old cycles and develop new healthy, creative, happy habits.
→ "Making Habits, Breaking Habits", is available now on Amazon.
Reviews
The Bookseller, "Editor's Pick," 10/12/12
"Sensible and very readable…By far the most useful of this month's New You offerings."
Kirkus Reviews, 1/1/13
"Making changes does take longer than we may expect—no 30-day, 30-pounds-lighter quick fix—but by following the guidelines laid out by Dean, readers have a decent chance at establishing fulfilling, new patterns."
Publishers Weekly, 12/10/12
"An accessible and informative guide for readers to take control of their lives."
→ You can dip into the first chapter, or check it out on Amazon.com.
Join PsyBlog's 69,466 readers now:
Share/save this article:
Published: 7 November 2004