Suicide, actual and suspected, has been in the news all week. The story of Bill and Wendy Ainscow is similarly tragic. Their daughter has Asperger syndrome, a type of autism normally situated at the less severe end of the spectrum.
Asperger's typically manifests itself in a difficulty communicating, problems forming and maintaining relationships and a lack of imagination. In many cases it is possible to live a relatively normal and fruitful life with this condition. The circumstances of this family however were different.
> From The Independent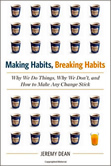 About the author
Dr Jeremy Dean is a psychologist and the author of PsyBlog and HealthiestBlog.com. His latest book is "Making Habits, Breaking Habits: How to Make Changes That Stick". You can follow PsyBlog by email, by RSS feed, on Twitter and Google+.
Published: 13 November 2004