And that's precisely how he got where he is today. So what is the difference between being labelled a psychopath and a successful businessman? A psychopath is happy to use violence to achieve his aims. That is certainly one way of looking at what it takes to succeed in business. Of course this situation is not either/or, there is a continuum. Professor Hare's study aims to dicover what personality traits are useful in business with more than an implication that some psychopathic tendencies are useful.
[From BBC News]
Want to understand your mind?
Get FREE email updates from PsyBlog.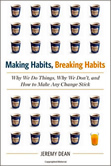 About the author
Dr Jeremy Dean is a psychologist and the author of PsyBlog. His latest book is "Making Habits, Breaking Habits: How to Make Changes That Stick". You can follow PsyBlog by email, by RSS feed, on Twitter and Google+.
Published: 19 August 2004