Psychology and love
Two partners who are unlikely to be splitting up any time soon. Here are a few of my favourite stories: newleyweds advised to lower hopes, opposites 'do not attract'. And finally my absolute favourite for sheer scare tactics: Being single 'worse than smoking'. That research sponsored of course by the British Couples Marketing Board.
Do you want to understand your mind?
Get email updates from PsyBlog. No spam. Ever.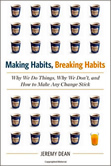 About the author
Dr Jeremy Dean is a psychologist and the author of PsyBlog. His latest book is "Making Habits, Breaking Habits: How to Make Changes That Stick". You can follow PsyBlog by email, by RSS feed, on Twitter and Google+.
Published: 13 May 2004