Do you want to pimp your résumé, negotiate a better salary, become a great leader, learn the secrets of a satisfying job and more?
Here are 50+ studies on the psychology of work:
Image credit: Alex Proimos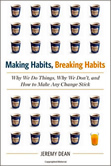 About the author
Dr Jeremy Dean is a psychologist and the author of PsyBlog and HealthiestBlog.com. His latest book is "Making Habits, Breaking Habits: How to Make Changes That Stick". You can follow PsyBlog by email, by RSS feed, on Twitter and Google+.
Published: 16 July 2012