2011 was the year of the mind-body interaction.
As the year draws to a close, it's time to take a look back over 2011. From the stats I've pulled out the most popular articles from the last twelve months, many of which are about the interaction between mind and body.
Here they are listed in descending order, as measured by page views:
If you joined the throng here at PsyBlog in 2011 then welcome and thank you for your support.
PsyBlog now has over 50,000 subscribers to its email updates and RSS feed alone. The site continues to grow thanks to word of mouth, so if you find it useful please do tell your friends about it.
Also, a reminder that you can get free email updates to PsyBlog every time an article is posted (with the usual no-spam guarantee). You can like PsyBlog on Facebook here, follow PsyBlog on Twitter here and give it a plus one on Google+ here.
Image credit: holeymoon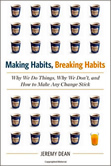 Making Habits, Breaking Habits
In his new book, Jeremy Dean--psychologist and author of PsyBlog--looks at how habits work, why they are so hard to change, and how to break bad old cycles and develop new healthy, creative, happy habits.
→ "Making Habits, Breaking Habits", is available now on Amazon.
Reviews
The Bookseller, "Editor's Pick," 10/12/12
"Sensible and very readable…By far the most useful of this month's New You offerings."
Kirkus Reviews, 1/1/13
"Making changes does take longer than we may expect—no 30-day, 30-pounds-lighter quick fix—but by following the guidelines laid out by Dean, readers have a decent chance at establishing fulfilling, new patterns."
Publishers Weekly, 12/10/12
"An accessible and informative guide for readers to take control of their lives."
→ You can dip into the first chapter, or check it out on Amazon.com.
Join PsyBlog's 69,466 readers now:
Share/save this article:
Published: 20 December 2011